Rocky Mtn American Eskimo Dogs & Mini AussiePoos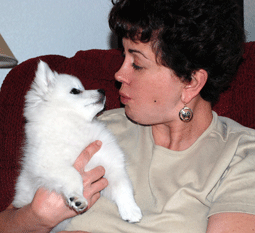 Welcome to Rocky Mtn American Mini AussiePoos or Aussie Doodles. We raise beautiful minis. Our dogs are home raised, well socialized, healthy and happy little dogs.
​
If you are interested in one of our puppies please email us with a completed puppy questionnaire below. rackel@littledogsco.com. Stay tuned for more!
Our next Aussie Doodle litter is due August 30th. Please fill out the puppy questionnaire if you are interested in one of our puppies. These pups will be born in Bedford, Virginia. Full siblings to our last litter. Average price starts at $2500 depending on coloring etc. Puppies will be ready to go to their new homes around October 26, 2021
Our Mini AussieDoodle Breedings
Champion Solo, the Stud of this litter is on the Right. Thank you Terry Jester of Powder Valley Poodles for the opportunity to breed to this wonderful dog.
Sweet Pea, our lovely Mini Aussie with a full natural tail, The Dam of this litter of 10